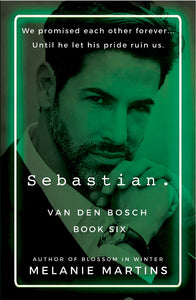 This is a preorder. This book will be released on Nov 24, 2023.
"We swore each other forever... Until his pride ruined us." - Julia
From the moment I fell in love with Sebastian, I had always seen him as my beacon, my unwavering anchor in the unpredictable sea of life. Our love was something out of a fairy tale, deep and all-consuming. But as time ticked by, his pride grew and his unsettling animosity towards our future daughter-in-law, Roxanne, began to eclipse our once radiant bond.
And now, an unexpected betrayal threatens to tip our relationship into oblivion. As the winds of doubt howl, my mother's urgent whispers push me towards the thought of parting ways with my one true half.
At this harrowing juncture, caught between the love I once cherished and the mounting pressures that might tear us apart, one question haunts me: Can a love once so profound survive amidst the ruins of trust and the weight of external forces?