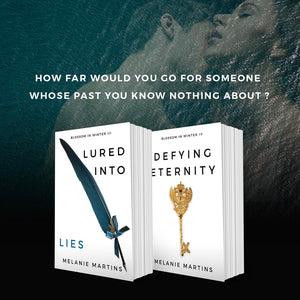 Get Books 3 & 4 of the Blossom in Winter series and save 10%
You need to have read Blossom in Winter and Lured into Love first! If you haven't, get the Complete Bundle and save 15%!
Lured into Lies (book 3)
"They say trust is the foundation of any relationship but what if lies are the foundation of ours?"

Petra and Alex have risked everything to escape those who have tried tearing them apart.

After finding refuge in Bermuda, they must learn how to trust each other like never before in order to tackle the upcoming judicial battles and the ever-present, scrutinizing eye of society.

But when Alex makes it clear he won't reveal anything from his past and his secrets are meant to remain his, Petra now faces the impossible choice of either marrying a man whose past she knows nothing about or fighting for a relationship on her own terms.

Stubbornly committed to knowing the truth, and always so curious even when she shouldn't be, Ms. Van Gatt has yet to say her final words.
Defying Eternity (book 4)
"Our relationship is ill-fated. Everyone saw it but us.
We, on the other hand, thought nothing but death could tear us apart.
And like clockwork, death came to tear us apart."

Petra knows her marriage to Alexander Van Dieren is a deadly union.

The stakes have never been so high and consequences are to be expected when taking eternal vows.

But when a life-changing revelation turns her world upside down, Petra finds herself torn between justice and love.

If she decides to seek justice, then she will become her husband's worst enemy.

If she can rationalize saving the love they have, then it will lead to her downfall.

Despite everything, sacrifices have to be made or all will crumble.

Can their marriage survive after so many secrets and lies? And if so, at what price?
This series is for mature audiences.