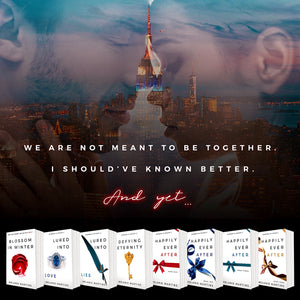 Time to binge-read the complete series with this Bundle at 27% off exclusively available here which includes:
8 PAPERBACKS + 1 BOOKMARK*
8 SIGNED COPIES.
OVER 2800 PAGES.
716,000 WORDS.
ONE FORBIDDEN LOVE STORY.
Immerse yourself in this utterly addictive forbidden love story that has captivated tens of thousands of readers around the world.
Blossom in Winter (Book 1) - signed paperback
"We are not meant to be together. I should've known better. And yet..."
Petra, a seventeen-year-old Dutch-American and the only heir of finance tycoon Roy Van Gatt, has always had her life rigorously planned and supervised by her strict father. From her internship at his hedge fund firm on Wall Street to her degree in Economics at Columbia University, Petra is all set for a bright future in finance.

But everything falls apart when she develops a dangerous relationship with her father's business partner and utmost confidant, Alexander Van Dieren. A Dutch nobleman, known as an unrepentant heartbreaker, twenty-three years her senior, and who is, above all else, her beloved godfather.

A twisted obsession for some, unconditional love for others, but one thing is sure: it's a relationship that might cost them everything...
Lured into Love (Book 2) - signed paperback
"It's a nasty kind of love. The kind you can't escape from even if you want to."
Petra should've known better. But her heart has always beaten for the one man that she can't have: her beloved godfather, Alexander Van Dieren. 
And despite the firm disapproval from her mother, the rising politician and activist, Tess Hagen, Petra is determined to take her life into her own hands and fight for him, no matter the price. 

But she can only do so if Alexander will go just as far for her. So after waking up from her coma, she asked him one question. He gave her one answer. And from there, nothing will ever be the same...
Lured into Lies (Book 3) - signed paperback
"They say trust is the foundation of any relationship but what if lies are the foundation of ours?"

Petra and Alex have risked everything to escape those who have tried tearing them apart.

After finding refuge in Bermuda, they must learn how to trust each other like never before in order to tackle the upcoming judicial battles and the ever-present, scrutinizing eye of society.

But when Alex makes it clear he won't reveal anything from his past and his secrets are meant to remain his, Petra now faces the impossible choice of either marrying a man whose past she knows nothing about or fighting for a relationship on her own terms.

Stubbornly committed to knowing the truth, and always so curious even when she shouldn't be, Ms. Van Gatt has yet to say her final words.
Defying Eternity (Book 4) - signed paperback
Petra knows her marriage to Alexander Van Dieren is a deadly union.

The stakes have never been so high and consequences are to be expected when taking eternal vows.

But when a life-changing revelation turns her world upside down, Petra finds herself torn between justice and love.

If she decides to seek justice, then she will become her husband's worst enemy.

If she can rationalize saving the love they have, then it will lead to her downfall.

Despite everything, sacrifices have to be made or all will crumble.

Can their marriage survive after so many secrets and lies? And if so, at what price?
Happily Ever After (4 novellas) - signed paperbacks
You know their story but what about their happily ever after?
With this bundle get the whole Happily Ever After series which includes 4 novellas that follow Petra & Alex as they face parenthood, in-laws, scandals, the ups and downs of marriage, and so much more.
*Bookmark is exclusively available for clients in the United States.
This series is for mature audiences.