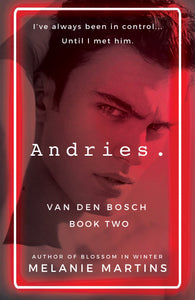 Format Available:
Signed Paperback (ISBN 979-8-9861626-2-1) I 5x8 inches I 544 pages I 148k words. 
"I've always been in control... Until I met him."

Roxanne
I never thought it would happen but it did. I fell hard for a man who's not only sixteen years younger than me but one who is also the heir to one of the most powerful families in the country.
Falling for him was a mistake that might cost me my business, my reputation, and God knows what else.
But despite everything, he turned my world upside down and made me believe in love again.
When I need to make a decision between what the heart wants and what is rational, all I can think of is him:
Andries.
ABOUT THE VAN DEN BOSCH SERIES
The Van den Bosch is one of the oldest noble families in all of the Netherlands and one that is especially talented at hiding their darkest secrets to maintain a perfect reputation, at least within the eye of the public.
You might already know of Julia and Sebastian from the Blossom in Winter series, but you don't know their story or of their oldest son, Andries.
This series will begin with the heart-wrenching story of Andries as he falls in love with a much older, ruthless businesswoman--Roxanne, followed by a prequel that tells Julia & Sebastian's story.
All I can say is expect the unexpected because Roxanne & Andries are like nothing I have seen before!