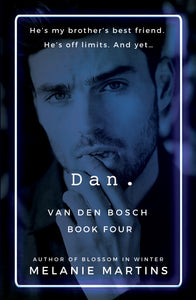 Warning: You must have read Books 1, 2, and 3 from the Van Den Bosch series before reading this one.
"He's my brother's best friend. He's off-limits. And yet..." - Elise

I should've stayed away from him but I couldn't. No matter how much I tried, the connection I have with Dan is undeniable.
But now not only my brother knows about our affair, but he also brought my first love back into my life when I least expected it.
Three years ago, Johan was the first boy I opened my heart to, thinking he was the one.
With Johan and Dan staying under the same roof, I'm now forced to face my past and present and make a choice.
Who do I really see my future with? Despite everything, the choice is more difficult than I could have ever imagined.
Or is it?

ABOUT THE VAN DEN BOSCH SERIES
The Van den Bosches. 
You know their name. 
You know what they are capable of.
But you don't know their story. 
As one of the oldest noble families in the Netherlands, they are especially talented at hiding their darkest secrets to maintain a perfect reputation, at least within the eye of the public.
You might already know of Julia and Sebastian from the Blossom in Winter series, but you don't know their story or of their oldest children, Andries, Elise, and Hannah.
This series will begin with the heart-wrenching story of Andries as he falls in love with a much older, ruthless businesswoman--Roxanne, and ends with the mysterious Hannah as she struggles with her feelings for a man that used to love her oldest sister, Elise.
All I can say is to expect the unexpected because this series is like nothing I have ever written before!