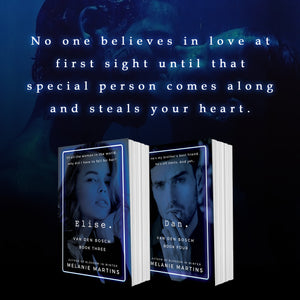 "Of all the women in the world, why did I have to fall for her?" - Dan

Elise Van Den Bosch. She's calculated, cold, ambitious, and manipulative. To summarize, she's the perfect Van Den Bosch and is the precise opposite of her older brother, Andries, who just so happens to be my best friend.
The day I first laid eyes on her I knew I was in trouble, but it was also the day my best friend made me swear to never look at her in that way again.
Years later, the impact she has on me hasn't changed, I've just gotten better at living with it.
After all, Elise is the only woman I can never have. She's my best friend's sister and she must remain that way for the sake of our friendship.
Even when I know I don't leave her indifferent either, I owe him to keep my oath.
Or do I?
This duet is for mature audiences.
ABOUT THE VAN DEN BOSCH SERIES
The Van den Bosches. 
You know their name. 
You know what they are capable of.
But you don't know their story. 
As one of the oldest noble families in the Netherlands, they are especially talented at hiding their darkest secrets to maintain a perfect reputation, at least within the eye of the public.
You might already know of Julia and Sebastian from the Blossom in Winter series, but you don't know their story or of their oldest children, Andries, Elise, and Hannah.
This series will begin with the heart-wrenching story of Andries as he falls in love with a much older, ruthless businesswoman--Roxanne, and ends with the mysterious Hannah as she struggles with her feelings for a man that used to love her oldest sister, Elise.
All I can say is to expect the unexpected because this series is like nothing I have ever written before!