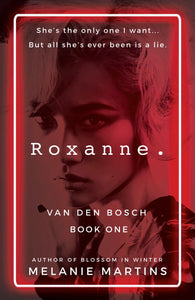 Format Available:

Signed Paperback I 5x8 inches I 544 pages I 135k words. 
"She's the only one I want... But all she's ever been is a lie."
Andries
I still remember the day she first said her name. Her voice was nothing like I'd ever heard before––velvet, fine-grained, and smooth. There was something magnetic about it. It was terribly inviting. And deeply alluring.
My name's Andries. I'm a closeted poet, an incurable romantic, and the oldest son of Sebastian & Julia Van Den Bosch––Dutch nobles who'd rather see me take over the family business and all the responsibilities that it entails rather than pursue a career in writing.
In the hopes of preparing myself for the task, I left the secluded family estate in the countryside to experience the thrilling life of a one-bedroom in the city center of Amsterdam to study business management. Though it's not business that kept me in Amsterdam…
It's her: Roxanne.
ABOUT THE VAN DEN BOSCH SERIES
The Van den Bosches. 
You know their name. 
You know what they are capable of.
But you don't know their story. 
As one of the oldest noble families in the Netherlands, they are especially talented at hiding their darkest secrets to maintain a perfect reputation, at least within the eye of the public.
You might already know of Julia and Sebastian from the Blossom in Winter series, but you don't know their story or of their oldest children, Andries, Elise, and Hannah.
This series will begin with the heart-wrenching story of Andries as he falls in love with a much older, ruthless businesswoman--Roxanne, and ends with the mysterious Hannah as she struggles with her feelings for a man that used to love her oldest sister, Elise.
All I can say is to expect the unexpected because this series is like nothing I have ever written before!